MANGO GROVES
---
Pudur
|


Near Vikarabad
---
0.5 to 1 Acre Farm Plots
---
Gated Farm Community
---
With Amenities & Guest House
LOCATION
---
Off Vikarabad Highway
The Urban Farms of Pudur is a Mango Grove with ready to pluck fruit bearing trees, which means you wouldn't have to wait to reap the benefits. It is located off Parigi-Manneguda Road, close to the Vooty Golf County. It is a 60 minute drive from the TSPA ORR Junction, which makes it very accessible and plain sailing to getaway for the weekends.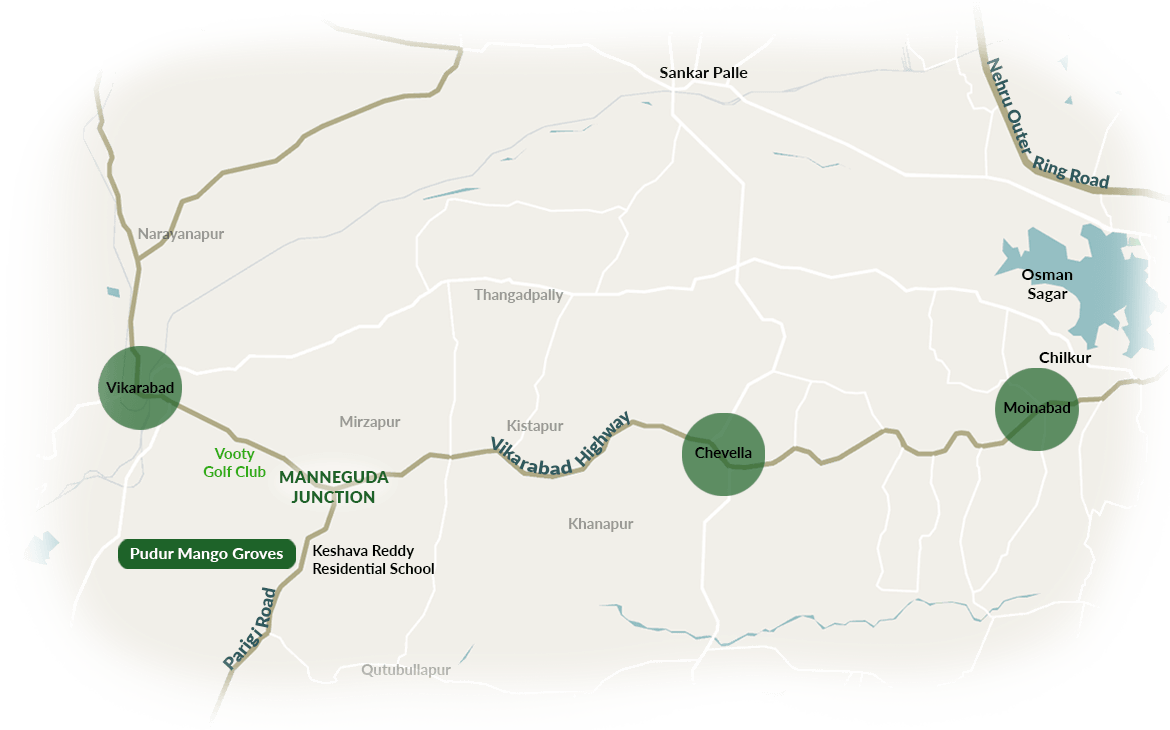 FARM COMMUNITY
---
Farm Land vs our Farm Plot
Everyone loves to own a farm; a green piece of land they can call their own to make quick weekend getaways and host fancy parties. But is it all as easy as it sounds? There are some challenges that come with it in reality.
How are we going to maintain it? How are we going to keep this green piece of land green? Who will take care of my Mango trees when I am not around? How will I build a farm house in this remote area? How frequently would I visit after investing so much on building a house? Most importantly would my land be secure? How will I find the right people to entrust it to, for upkeep?
So Janapriya Urban Farms offers you the opportunity to make an investment that comes with the ease of maintenance. We are extending 2 years of complementary maintenance of your farm, post which, the maintenance comes at a nominal charge. The Urban Farm community encompasses a guest house with amenities like swimming pool, party deck and huge lawns to host bigger crowds.
WEEKEND GETAWAY
---
Time to host your Family and Friends
Throwing a party calls for a lot of planning & effort, but all you need to do is give us a call. The entire idea of Urban Farms revolves around packaging smart investment with luxury services. The Orion Guest House at Urban Farms comes with 4 secluded luxury pool facing suites connected by an unfurled atrium. You could make a booking for one or all the suites depending on the size of the crowd you wish to host. The service staff will take care of rendering a comfortable stay for your guests; so we got you covered over there as well! All you would have to do is enjoy the party and play swanky host.
The 20 meter swimming pool is accompanied by a party deck and barbecue grill, ready to host a small or a big crowd. For times when you wish to host large crowds, 'The Nirvana Lawns' will do the trick. It is big enough to accommodate 150-200 people in a round table arrangement.
Entertaining a crowd seeks more than just a luxury stay and swimming pool, so we have the sports centre for some fun and frolic. The Beach Volleyball, Outdoor gym & some Indoor games would make it easy to keep the guests and the kids engaged.
Features and Benefits
---
20 meter swimming pool with party deck
---
4 secluded pool facing luxury suites
---
Pool side bar counter
---
Two casual dining restaurants
---
Nirvana Lawns to host crowds
---
Two Glamping sites
---
Kitchen garden
---
Farm activities for children
---
Children Play zones
---
Ready to pluck mango trees
---
Customised farmhouse construction Service
---
2 years complimentary farm maintenance
---
Assistance to harvest and sell the produce
LAUNCHED PHASE II
---
Guava and Waterfront Plots
The Phase II of the farm community is now open for sale with mature guava trees and premium waterfront plots.
CONNECT
---
Get in touch to know more